The 2K Product Line is being superceded Trak Pro in 2010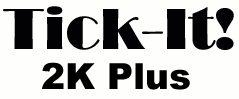 You have been directed to this page because you have followed an Internet Link that refers to material describing our legacy Tick-It! 2K product. Beginning in January, 2010, the venerable 2K product line is being superceded by the Tick-It! Trak Pro line of software.
For those of you that have been running 2K for years, do not worry. Your software will continue to run as it always has, it won't "time out" or otherwise shut off on you. You are NOT being "orphaned", as the Trak Pro line offers a nearly seamless future upgrade path when the time comes that you will want to upgrade. We are also not going out of business, or are being bought out, as has been the case with many other ticketing software companies.
This product line change is necessary for a variety of reasons:
New and increasingly complex Windows Operating Systems from Microsoft
Consumer demand for features not possible with the 2K Platform
Increasing security requirements imposed by Visa / Mastercard for credit processing
Our manpower ability to support multiple ticketing system platforms
You can use the links to the right or below to check out the features and benefits of the Trak Pro system, version 3.0.
If You are a Tick-It! 2K user, consider an upgrade. It's 2022, you're WAYYY overdue.

Want an Upgrade Brochure to Pass Around the Box Office?